Free Winter Car Kit When Purchasing 2 Or More Michelin CrossClimate Tyres
Looking for new tyres that can handle everything the UK weather throws at the road? Michelin CrossClimate tyres are ideally suited to mild UK winter conditions and can handle dry, wet and icy conditions and even snow thanks to their 3 peak mountain snowflake, meaning you'll benefit from superior grip and traction in all conditions.
Plus, throughout October and November, you can claim a free winter kit for your car when you purchase 2 or more Michelin CrossClimate tyres in-centre at Tyre Pros or online at www.tyrepros.co.uk. Need another reason to buy Michelin CrossClimate tyres? Ok, how does 10% off sound?
Use code MCC to get 10% off 2-3 or 15% off 4 Michelin CrossClimate tyres
Offer only applicable to online retail orders placed at www.tyrepros.co.uk when you buy two or more Michelin CrossClimate tyres. Please use code MCC at checkout to receive the discount. The discount applies to the individual tyre price on the day of purchase and excludes additional charges for fitting costs (valve, balance and tyre disposal). Ends midnight 30th November 2020.
Search for tyres
What will I receive?
The free winter kit from Michelin includes the following items to keep in your car or whatever works for you! Buy 2 or more Michelin CrossClimate tyres to receive:
47-piece First Aid Car Kit
Car Phone Holder
Emergency Light With Hammer
Fleece Blanket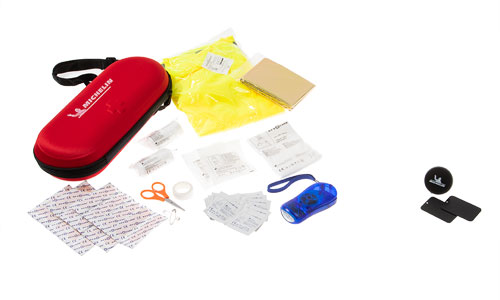 Who can qualify for this offer?

This offer is available to Tyre Pros customers who buy 2 or more Michelin CrossClimate tyres online at www.tyrepros.co.uk or at any Tyre Pros centre between 1st October 2020 and 30th November 2020. This offer does not include other tyres from the Michelin range.
How do I claim?
Please complete the claim form below to receive your free Michelin winter kit. If you purchased your tyres online from www.tyrepros.co.uk, enter your booking reference number that begins 'PR76' in the field provided. If you purchased your tyres in one of our centres, you will need to upload a photo of your invoice to verify your tyre purchase. We need to be able to see the whole invoice clearly, blurred or cropped images will not be accepted.
When can I claim?
Once you have had your tyres fitted at your local Tyre Pros centre, you can submit your claim using the claim form on this page. The closing date and time for receipt of claims is midnight on 31st December 2020.
When will I receive the gift?
You should receive your winter kit in the post within 45 days of submitting your claim.
I have not received my gift, what should I do?
With a bit of luck it's just a minor delay, but if you have not received your winter kit within 45 days then please call our helpline on 0800 9 888 666 and we will try to locate your kit. The helpline is open Monday to Friday 9.00am to 5.30pm.
Will my details be passed on to 3rd parties?
Your information will be shared with Brand Addition Ltd who is acting on our behalf and will use your information solely for the purpose of fulfilling gift claims. Your information will not be shared with any other 3rd parties.
---
Winter Kit Claim Form
To claim your free winter kit for your purchase of 2 or more Michelin CrossClimate tyres, please complete the form below and click 'Continue'. By clicking 'Continue', you understand that the Promoter will have to submit the information entered below to a third party (Brand Addition Limited) to issue the winter kit and that the information given will be checked electronically to confirm the identity of the claimant.

---
Terms & Conditions
The promotion is open to retail customers who are resident in the UK aged 17 and over excluding employees and the immediate families of the Promoter, their agents, or anyone professionally connected with the promotion.
There is a purchase requirement. Customers must purchase 2 or more Michelin CrossClimate tyres in a single transaction between 01/10/20 and 30/11/20 to receive the Michelin Free Winter Safety Kit.
The Michelin Winter Safety Kit contains a 47-piece first aid car kit, a car phone holder, an emergency light with hammer and a fleece blanket.
Only one claim per vehicle is permitted.
Purchases must be made at a Tyre Pros centre in the UK or www.tyrepros.co.uk
After the tyres have been fitted, it is the claimant's responsibility to enter their details and submit the Michelin Winter Safety Kit claim form at www.tyrepros.co.uk/winter-kit-offer including a copy of a valid invoice or valid online reference number.
Qualifying claimants are responsible for providing a full name and valid email address in order to receive the Michelin Winter Safety Kit when completing the claim form.
The closing date for submission of claims is 31st December 2020. Applications received after 23.59 on this date will not be processed.
Following successful claims, the Michelin Winter Safety Kit will be sent to qualifying claimants within 28 days. Qualifying claimants are responsible for providing a valid delivery address in order to receive the Gift when completing the claim form. If the Gift is to be delivered to a shared address, it is the responsibility of the claimant to make sure the Gift is securely received. If this cannot be guaranteed, please provide a suitable alternative delivery address such as a place of work.
The Promoter reserves the right to dispute a claim if it believes it is not legitimate. The Promoter's decision is final in all matters relating to the promotion.
No cash or other gift alternative available, in whole or in part, except owing to circumstances outside the reasonable control of the Promoter, the Promoter reserves the right to offer a suitable alternative of equal or greater value.
Unless otherwise agreed in writing by the Promoter, the Michelin Winter Safety Kit will only be awarded directly to the qualifying purchaser.
In the event of circumstances outside the reasonable control of the Promoter, or otherwise where fraud, abuse, and/or an error (human or computer) affects or could affect the proper operation of this promotion or the awarding of gift, and only where circumstances make this unavoidable, the Promoter reserves the right to cancel or amend the promotion or these terms and conditions, at any stage, but will always endeavour to minimize the effect to participants in order to avoid undue disappointment.
The Promoter reserves the right to delay the awarding of the gift to the customer in circumstances pertaining to COVID-19 such as additional lockdown measures where it is not possible to manufacture or deliver the gift due to temporary facility closures. Customers will be advised of any delays in production and delivery at www.tyrepros.co.uk/winter-kit-offer.
The Promoter reserves the right to verify all qualifying purchases and to refuse to award a gift or withdraw gift entitlement and/or refuse further participation in the promotion and disqualify the participant where there are reasonable grounds to believe there has been a breach of these terms and conditions or any instructions forming part of this promotion's entry requirements or otherwise where a participant has gained unfair advantage in participating in the promotion. The Promoter will be the final arbiter in any decisions and these will be binding and no correspondence will be entered into.
Qualifying purchases that do not comply with these terms and conditions, or where entrants are found to be abusing the promotion in any way, will result in the disqualification of claim.
Any personal data relating to participants supplied to www.tyrepros.co.uk/winter-kit-offer will be used solely for the purpose of the promotion and will not be disclosed to a third party (other than the Promoter's agencies for the purpose of servicing/implementing the promotion.) The Promoter's privacy policy can be found at www.tyrepros.co.uk/privacy-policy. You can request access to your personal data, or have any inaccuracies rectified, by sending an email to group-data-protection@etelimited.co.uk
If any of these clauses should be determined to be illegal, invalid or otherwise unenforceable then it shall be severed and deleted from these terms and conditions and the remaining clauses shall survive and remain in full force and effect.
This promotion is based on English law and the Courts of England and Wales will have exclusive jurisdiction.
The Promoter and its associated agencies and companies accept no liability for any loss, expense or damage which is suffered or sustained (whether or not arising from any person's negligence) in connection with the promotion and/or rewards, other than such liability that cannot be excluded or limited by law including death or personal injury caused by negligence. 20. The Promoter: TPAS (UK) LTD, ETEL House, Letchworth Garden City, Hertfordshire, SG6 2HU, United Kingdom.
The third party agency fulfilling this promotion on behalf of the Promoter is: Brand Addition Ltd, Broadway House, Trafford Wharf Road, Manchester, M17 1DD.