Before buying your tyres, you need to know which size tyres you need. You can find out this information by looking at your tyre sidewall. As there are many numbers and symbols on the tyre sidewall, it can be tricky to find the ones that you need. Here are some tips for reading your tyre size:
Tyre Size
Your tyre size is made up by a series of numbers and letters as shown in this diagram.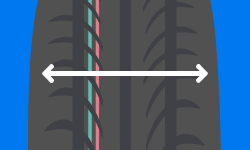 Section Width
The first number that makes up your tyre size is the section width. This refers to the width across the tyre in millimetres.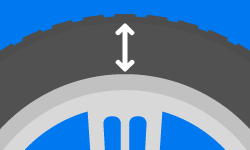 Aspect Ratio
The next element of your tyre size is the aspect ratio. This represents the height of the sidewall as a percentage of the section width. So, for example, if your section width is 196cm and the aspect ratio is 65, the height of the sidewall is 127mm (65% of the section width).
Radial Construction
The next marking that you may see on your tyre is an R. Most modern tyres are now manufactured with radial construction which adds greater strength to the tyre. If your tyre is marked with an R, this means that your tyre has been manufactured using radial construction.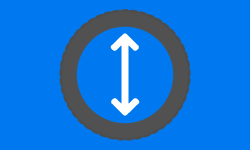 Rim Diameter
The rim diameter is the following marking that you will see on your tyre sidewall. This number will tell you in inches the diameter of the tyre's inner rim in inches.
Load Index
The load rating can be found before the speed rating but after the diameter marking. This rating shows the maximum weight the tyre can carry.
Speed Rating
This indicates the maximum speed that tyres can be driven at safely. This can be seen as the last letter on your tyre sidewall. You can fit tyres with a higher speed rating than your existing tyres. However, fitting tyres with a lower speed rating can invalidate your insurance.